The Royal Duke Hotel (Band)
The Royal Duke Hotel is an independent Australian pub rock band from Sydney, formed in 2016. The band's studio line-up consists of vocalist Rohan Venn, guitarists Lukey Andersen and James McLaren, and producer Dane 'Moose' Kloos. The band have released one studio album and a number of singles under their own label, The Royal Duke Hotel.
Background Information
Origin: Sydney, NSW, Australia
Genres: Pub Rock, Alternative Rock, Punk Rock
Years active: 2016-present
Labels: The Royal Duke Hotel
Website: www.theroyaldukehotel.com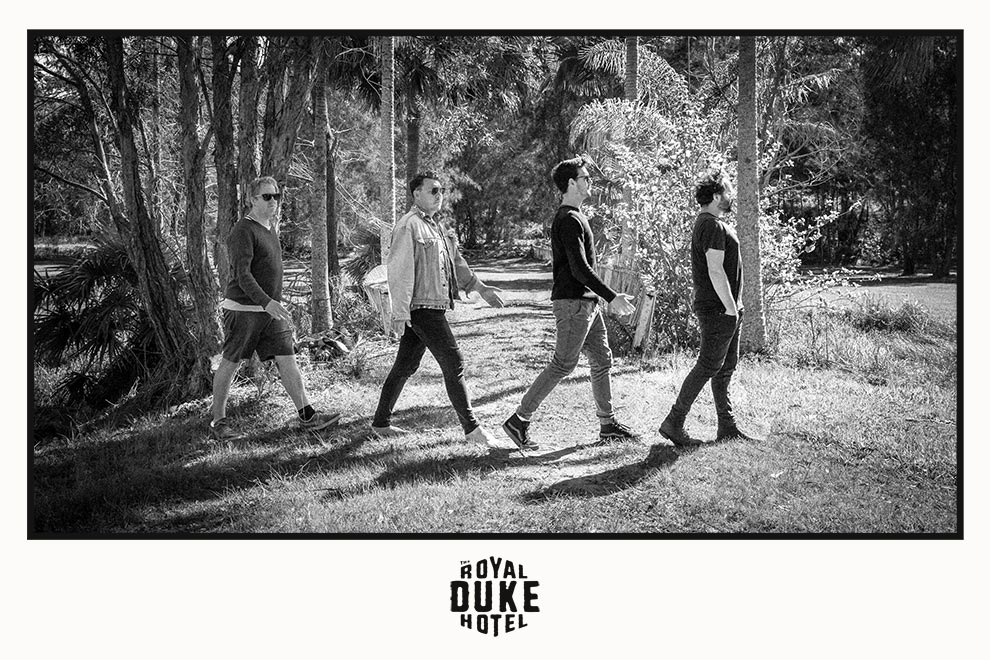 (From left to right: Dane Kloos, Lukey Andersen, Rohan Venn and James McLaren)
Biography
A band that sounds like a familiar place. The Royal Duke Hotel channels the dynamic punk and pub rock scenes of the 80s-00s, breathing new life into the old sound of the songs we loved when we came of age. It's an original sound that harkens back to the end of the age of innocence; your first act of rebellion and your first broken heart.
The journey to The Royal Duke Hotel began in 2014 when vocalist Rohan Venn and guitarist James McLaren recruited then bassist Lukey Andersen to the notorious punk rock party covers band The Smears. In 2016 they teamed up with producer Dane 'Moose' Kloos and set about writing, recording and performing original music independently, adopting a totally DIY attitude to production and publishing.
Written and recorded on rainy weekends in a coastal farmhouse and faithfully performed with essential veteran craftsmanship. In the studio, the band takes a multi-instrumentalist approach with each member contributing to the band's sound on drums, bass, keys and percussion.
Inspired by the legendary Australian pub rock scene of the 1980s, the band takes its moniker from common names of Australian pubs, often being either 'The Royal ...' or the 'Duke of ...'. Curiously, there is no pub named The Royal Duke Hotel (except for the one in Canada).
Discography
Albums
The Royal Duke Hotel (2018)
Singles
Loose Change (2017)
My City Sleeps (2019)
Stand With You (2020)
1984 (2020)
Heartwaves (2020)
Contact
Management, press and publishing: theroyaldukehotel@gmail.com